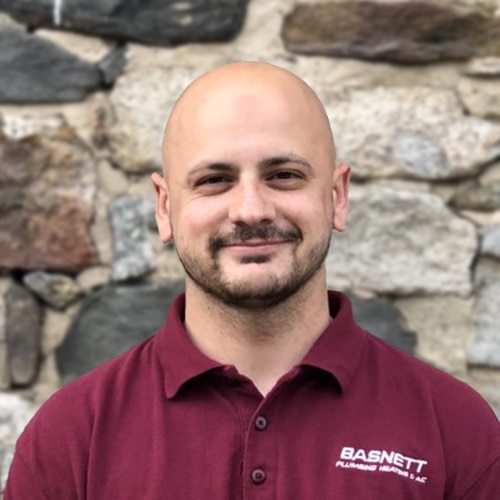 Zach
Install Technician
Zach Menard is one of the lead installation technicians at Basnett Plumbing, Heating & AC. Menard brings over six years of HVAC installation and service experience to our team. He is fully trained on Mitsubishi, Bryant, Bosch, Unico, Goodman, Lenox and many other key HVAC products. After a battle with cancer at age 23, Zach has had a new outlook on life and lives each day to his fullest. Outside of work, he enjoys riding his motorcycle and gaming online with his friends. We're very lucky to have Zach as a member of our team.
Heat Pump Installation in Bolton, MA 01740
"Zach and Mike installed a new forced air heating and air conditioning system this past February. They were very professional, careful not to damage our existing home, and didn't complain about the awkward spaces they had to work in. We are so pleased with the end result and look forward to enjoying air conditioning this summer!"
- Jon and Heather C.
Water Heater Repair in Littleton, MA 01460
"Zach was great. Very kind and did a great job. No mess left behind."
- Kathleen S.
Heat Pump Installation in Concord, MA 01742
"Everyone from Basnett who worked in my house was professional, thorough, and helpful. At the beginning, there was a question about how the switch from the heat pump to the backup heating would happen to accommodate the multiple zones in my house. Zach was determined to find a solution with the smallest chance for problems that would be easy. He did come up with one that is working well and he spent time helping me understand how to use it."
- Marlene M.