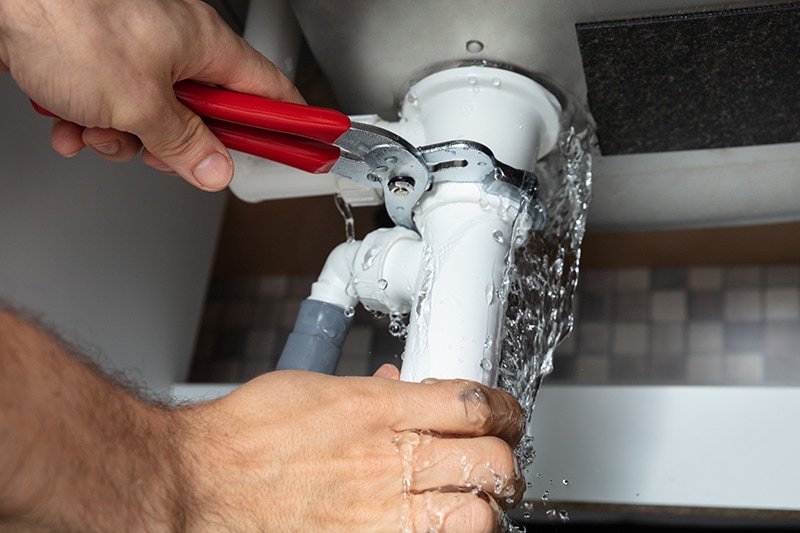 Hear that dripping sound in your Massachusetts home? It's money leaking out the door.
Minor plumbing issues can quickly become major problems if neglected. Too often, we see a leaky pipe and ignore the situation because we only see a few drops of water.
Unfortunately, even a small leak can turn into a disaster if left unchecked.
Our team of experts at Basnett Plumbing, Heating & AC stand ready to offer practical solutions to any plumbing issues in your Littleton home, along with recommendations on how to get the most value out of your heating, ventilation, and air conditioning (HVAC) system.
Basnett is a family-owned business that has been proudly serving MetroWest Boston and surrounding communities since 1987. Our A+ rating with the Better Business Bureau lets you know we're a company you can trust.
Plumbing Leak Signs
Obviously, if you see puddles of water forming beneath a sink, you have a leak. But not all plumbing leaks are visible—here are three telling signs to indicate there is an issue:
You see spots—If the paint or wallpaper on your ceiling starts to bubble, water is likely leaking from either your roof or your plumbing system. A stain forming on your ceiling may also indicate a leak.
Ignoring this issue is a mistake. By the time stains appear on your Littleton ceiling, chances are the leak has been there for a while. Schedule an appointment today with our team of master plumbers to find the source of the leak—and fix it.
2. Blame it on the mold—If you have a nagging musty odor in your basement or other parts of your home, blame it on mold. Look around, and you will likely find it growing somewhere damp.
Not only is mold unsightly, but it can damage your furniture and negatively impact your health. Long-term exposure to mold and mildew can trigger asthma attacks and lead to chronic respiratory issues, as well as debilitating conditions.
Even if you smell something stale in the air but don't detect any mold, schedule an appointment with our team to determine the cause. Doing so can save you money and help avoid aggravation down the road.
3. Your water bill keeps rising—If your water bills keep increasing for no obvious reason, a leaky pipe could be the culprit. According to the US Department of Energy (DOE), a leak of one drip per second wastes approximately 1,661 gallons of water and can cost up to $35 per year.
Leaks from fixtures, faucets, toilets, and showerheads—even if it's just a drip—can cost you a significant amount of money over time. Replacing these parts is a smart investment and a practical way to lower your monthly utility bills while improving your home's safety and comfort.
Other Signs of a Plumbing Problem
It pays to have your HVAC equipment inspected at least once a year—apply the same strategy toward your plumbing system. Small issues with your HVAC or plumbing can quickly turn into expensive problems.
Here are some other indicators you have a plumbing problem:
Reduced water pressure
Discolored pipes
Sewer odor
Cloudy water
Our company is licensed, bonded, and insured, with deep roots in the community. We believe in building long-term partnerships with all our customers—and that starts by offering quality services and products.
Call Your Plumbing Experts Today!
From your kitchen to your laundry room to your bathroom, your home in Littleton, MA, deserves good plumbing. Basnett Plumbing, Heating & AC has served homes and businesses in the MetroWest Boston area for over 30 years. Call 978-486-3767 or request service online today to learn more about our plumbing services and other products.