Bosch boilers deliver reliable heating and hot water with high efficiency and low operating costs.
Basnett Plumbing, Heating & AC is an Accredited Bosch Contractor!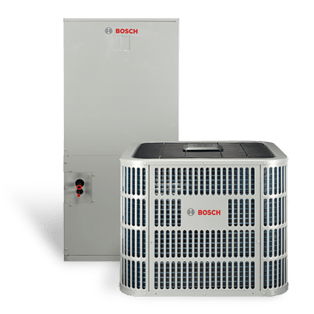 Inverter Ducted Split System (IDS 2.0)
At a Glance
Fully modulating inverter drive to precisely match the heating/cooling load
Up to 20.5 SEER, 14 EER and 10.5 HSPF, Full range is ENERGY STAR® Qualified
Two stage indoor fan motor for premium dehumidification
10 speed ECM outdoor blower for premium efficiency and whisper quiet operation
Meet the Bosch IDS 2.0 System
With increased energy efficiency and enhanced humidity control features, the IDS 2.0 provides homeowners with maximum comfort and reduced energy usage. The system's intelligent features work in tandem with your thermostat to automatically adjust to your preferences, while integrated sound dampening features keep the units exceptionally quiet.
Consistent Room Temperature
Conventional heat pumps cycle on and off frequently, resulting in uncomfortable temperature fluctuations. While inverter-driven pumps are able to self-adjust, providing consistent room temperature, even when the outdoor temperature dips to -4°F.
Consume Only the Energy You Need
Modulating inverter systems deliver only the amount of hot or cool air needed to achieve the desired temperature – no more, no less. With a 20.5 SEER rating and 10.5 HSPF, the Inverter Ducted Split system can provide you with maximum comfort levels at a minimum cost.
Quiet Comfort Achieved
The Bosch Inverter Ducted Split system is one of the quietest air-to-air systems on the market. Through the use of silent blade technology, sound isolating mounts and outdoor condensing section placement - the system can deliver outdoor sound levels as low as 56 dBA - far superior to any standard system on the market.
Fast Response
It takes traditional systems a long time to reach the homeowner's desired temperature, while the boosted compressor speed of inverter systems allow for quicker, smoother and more efficient heating and cooling.
Intelligent Control
This system will adjust output capacity to match your ideal temperature requirements. With two speed AHU fan control, the system also delivers enhanced dehumidification.
Steady and Even Energy Usage
The frequent on and off of traditional units creates an in-rush current surge which uses more energy and causes unneeded wear and tear on your system. The Bosch inverter system smoothly ramps up operation, avoiding spikes in energy use and protecting the system's life-cycle.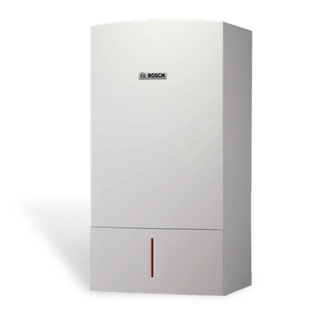 Greenstar Boilers
At a Glance
95% AFUE efficiency
Available in both heating-only and combi versions
Insulated for ultra-quiet operation
Compact wall-hung and floor-standing designs
Compact Design
The Greenstar boiler is available in both wall-hung and floor-standing models. Wall-hung models are perfect for installations where space is limited and floor-standing models help make boiler replacements quick and easy.
Fully-modulating Fan Assembly
A fully-modulating fan helps maximize efficiency by ensuring that the unit operates with optimal combustion. The fan automatically increases or decreases speed according to the amount of gas coming into the boiler, meeting heat demands and saving energy.
Minimize Service Calls
With corrosion-resistant heating blocks designed to optimize clean burning combustion over an extra large surface area, the long-lasting Greenstar requires minimal servicing and reliance on spare parts. This unit comes equipped with an advanced Aluminum-Silicon alloy heat exchanger, offering increased flexibility versus traditional stainless steel.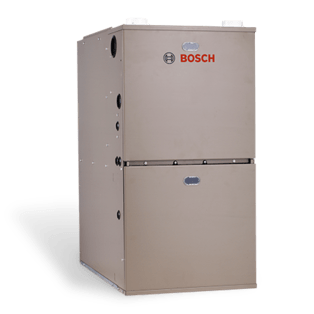 BGH96 Series
At a Glance
Up to 96% AFUE heating efficiency
Easily integrate with Bosch IDS Heat Pump units for high efficiency heating and cooling
Multipoise design allows for easy replacement of existing equipment or new installs
Say "Hello" to Savings
The BGH96 Furnace's two-stage gas valve switches between high and low fire settings to meet load demands, allowing for more efficient operation than single stage technology. This means enhanced comfort and energy savings for homeowners by converting up to 96% of the fuel purchased for heating.
Complete Heating & Cooling System
Complete your home HVAC system by integrating the Bosch BGH96 Furnace with Bosch's IDS Outdoor Unit (BOVA) and Cased Coil (BMAC). Pairing with the Bosch IDS Heat Pump allows for heat pump system operation of up to 18 SEER. Installing a Bosch matched dual fuel system is the best choice to optimize savings, comfort, and efficiency.
Peace of Mind Comfort
Installing a Bosch matched dual fuel system is the best choice to optimize both savings and comfort. Bosch offers a complete dual fuel system with the Bosch Inverter Ducted Split (IDS) heat pump, Bosch BMAC Cased Coil, Bosch 96% Gas Furnace, and the Bosch Connected Control Thermostat.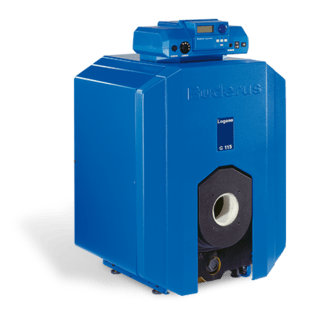 Buderus G115WS
At a Glance
Improved Efficiency (87% AFUE)
Low standby losses with full 3" jacket of thermal insulation.
Gas-tight seal for safe and efficient operation
Best of the Best
The Buderus G115WS boiler is based on the highly successful G115. The G115WS has been redesigned and reengineered to extract and deliver more heat from fuel, and now has higher outputs at less cost per BTU. Acknowledged as the leader in high-efficiency, low emission hydronic heating, Buderus offers innovative design and quality manufacturing.
Install or Replace
A G115WS cast iron oil boiler is ideal for new installations or as a replacement for virtually any make or model of boiler. They are compatible with most hot water tanks and with two ETL approved venting options, either into a chimney or directly through the wall, the G115WS allows a wide range of installation possibilities.
Need HVAC Service?
Contact the experts at Basnett Plumbing, Heating, AC & Electrical.
Call us at 978-431-2906!