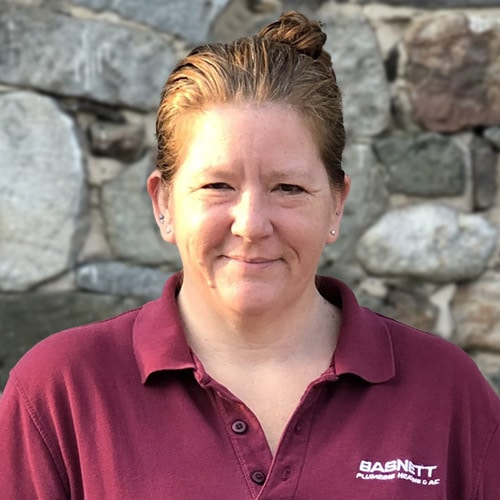 Lisa
Inventory Assistant
Lisa White is an apprentice on our team. One of her primary responsibilities is assisting technicians to ensure jobs are completed successfully and efficiently. After spending 25 years in retail, she realized her passion for working with her hands, which inspired her to change career paths. Outside of work, Lisa is both family oriented and adventurous, spending her time hiking, fishing, and exploring new places. We're thrilled to have Lisa's strong work ethic and love of customer service brought to every job.
Air Duct Replacement in Harvard, MA 01451
"Once again, we are so happy about working with the Basnett team! We had all of our old heating/AC ducts replaced throughout our house, and Zach got the job done very efficiently. He is extremely professional and easy to work with, and clearly cares a lot about his work quality. He communicated with us very clearly throughout the entire week-long process, and he worked several long days to make sure everything was done on time. He also happily problem-solved with me when I needed them to change part of their plan on the second day. Mike also worked incredibly hard to get the job done, and he was very professional and kind throughout the duration of the project, also putting in long days. Jake reviewed everything at the end, answered all of our questions and completed the duct-sealing process with Lisa's help. As always, the final results exceeded expectations, and our system is working great! This is a team who is respectful of your time, your house, and your family. You will be happy to have in your home!"
- Pamela O.