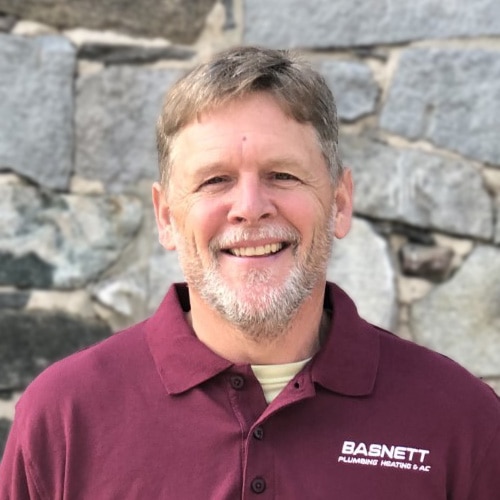 Paul
Lead Install Technician
Paul Lizotte is the Production Manager for Basnett Plumbing, Heating & AC. Paul has been in the plumbing and heating industry since 1986 and is currently the company's longest tenured employee. One of Paul's many accomplishments are that he is NATE Certified. NATE is an independent organization that certifies installation or service technicians with a knowledge-based test. Organizations that are part of the NATE coalition include the U.S. Environmental Protection Agency and American Society of Heating, Refrigeration and Air-Conditioning Engineers. When Paul is away from work, he enjoys spending time with his family, along with keeping active with hockey and golf. His favorite inspirational quotes are the Six P's, "Prior Planning Prevents Piss Poor Performance." Paul takes the quote and applies it to his preparation for each project he faces. Paul enjoys working with customers on projects, knowing that the equipment / installations that he does will be around for years to come.
Water Heater Installation in Framingham, MA 01701
"I am always impressed by the great customer service Basnett provides!!"
- Beth G.
Plumbing Replacement in Boxborough, MA 01719
"Thank you so much for all your help with getting the water tank replaced. Paul and his crew were very professional and did a great job."
- Paul S.
Heating Installation in Harvard, MA 01451
"A shout out to Paul Lizotte and the Basnet Crew on an outstanding design and installation of a complicated whole house heat and hot water system. The new 3 zone system with Viessmann Boiler, Vitocell Indirect Water Heater, Purmo Eurostyle wall mounted radiators and Runtal baseboard radiators is really efficient, and quiet. Workmanship was excellent, and we appreciated the care taken in our old house. Thank you very much."
- Loretta E.