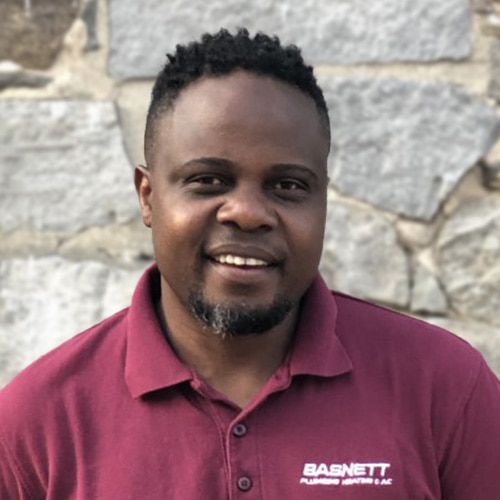 Phinias
Service Technician
Phinias Muchirahondo is a service/maintenance technician for Basnett Plumbing, Heating & AC. He was born in Zimbabwe and later moved to the United States. He went to the New England Institute of HVAC where he studied and did a lot of hands-on training for HVAC equipment. Since working for Basnett Plumbing, Phinias has completed dozens of trainings for well-known brands such as Carrier, Bryant, and Bosch. Recently, he received his duct system optimization specialist certification from the National Comfort Institute. He also has his oil burner license. Phinias is married and has two beautiful kids, whom he loves spending time with. In his spare time, he loves being outside in his garden. One of his favorite quotes is, "Don't let yesterday take up too much of today," Will Rogers. He loves getting up every day, knocking on a customer's door, fixing their problems and leaving them with a smile.
Air Conditioner Maintenance in Westford, MA 01886
"Phinias did a wonderful job, as he always does."
- Alan C.
Air Conditioner Repair in Groton, MA 01450
"Phinias was here to service our AC and he was courteous, professional, efficient, knowledgeable, and effective."
- Bill K.
Plumbing Repair in Carlisle, MA 01741
"Phinias was very courteous, knowledgeable, and professional."