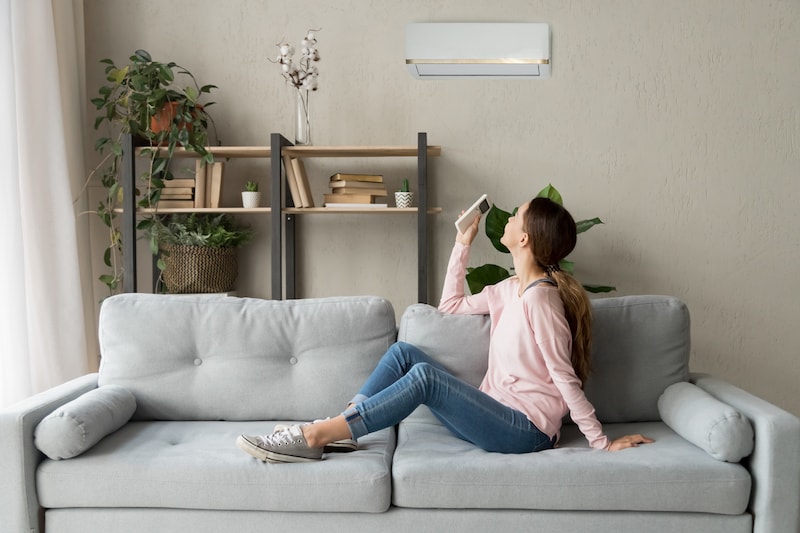 If you have not been in the heating and cooling market for a while, you may not realize all the options available to you today. Perhaps you have just purchased a home with an existing furnace and air conditioning system and need to upgrade. Or you may be considering a new system if your old one is in need of replacement or if you are planning an addition to your home.
Although mini splits, also known as ductless systems, have been around for decades, they were originally invented and most popular in Japan. In recent years, these heating and cooling powerhouses have gained footing here in the United States and are requested more than ever here in Massachusetts.
Our team at Basnett Plumbing, Heating & AC would love to share our expert knowledge about mini splits with you, so you can make the best decision for your family and home.
What Is a Mini Split System?
Mini split systems are ductless heat pumps and are designed to heat and cool areas within your home such as a single room or area. These compact systems have an indoor air handling unit, typically mounted on a room's wall, paired with an outdoor compressor and condenser component.
Though most units operate as both a heater and cooler, some models work only as a heater in the winter, relocating heat from outside to inside your home. Others work only as an air conditioner, working in the reverse by removing the heat from inside to the outdoors.
When Does Installing a Mini Split System Make Sense?
Many homes nowadays have a mini split or two in their homes. In some situations, if a home does not have an existing duct system, you may be able to install a mini split more quickly, affordably, and efficiently than a more traditional heating, ventilation, and air conditioning (HVAC) system.
You may be considering investing in a mini split if you are building an addition on your home or if you have a room with inconsistent heating, such as a home office or bedroom. Installing one of these diverse systems in a garage, basement, or attic space also makes sense if there is no existing ductwork in these areas.
Another scenario where mini splits make sense is in a zone control system situation. Installing several indoor units around your home working with a solitary outdoor unit gives you individual comfort levels in your home, saving you money on your energy costs. Each indoor component has its own thermostat, providing you with the precise temperatures you need throughout your home when you need them. No wasting energy in empty rooms any longer.
What Are the Main Advantages of a Mini Split?
Mini split systems give you a great deal of flexibility in terms of which spaces you want heated or cooled. They have high levels of energy efficiency due to no energy being lost through leaky ductwork since they are ductless.
In fact, according to the US Department of Energy (DOE), they avoid more energy losses than a conventional HVAC system with air ducts, which can be as high as 30 percent.
Another big advantage of a mini split is its flexibility in installation. You can install a system most anywhere in your home. They are typically mounted on a wall, so if you have limited space in your home and a traditional HVAC system poses a challenge, a mini split could be the answer.
The actual installation of one of these versatile systems is also quicker and easier than a traditional system with ductwork. These systems have just the outdoor and indoor components, and are then connected via a conduit through a three-inch hole in your wall. Our professionals are in and out of your home in no time, without much fuss.
How Much Maintenance Is Required?
All heating and cooling systems need regular maintenance, and mini split systems are no exception. Both indoor and outdoor mini split parts must be free from obstructions that could inhibit airflow.
It's imperative to regularly clean your air filters. Dirty air filters on a mini split system will not only waste energy but can result in significant damage to the system. At some point, you will need to replace them to keep your system operating at peak efficiency.
You also want to be sure the system's outdoor condenser and coils are clean. Being located outdoors allows the condenser to collect dirt and debris, which can inhibit its working properly.
Schedule a tune-up, cleaning, and inspection with one of our team professionals twice a year. We like to recommend our maintenance before you begin using the system at the beginning of the seasons. Our team will expertly prepare your system for heating and cooling your home to keep it running smoothly and efficiently.
Contact Your Mini Split Experts
Call our experts at Basnett Plumbing, Heating & AC in Littleton, MA, for more information on ductless systems or if you have any questions about your particular heating and cooling needs. We would be happy to discuss how a mini split could solve your home-comfort levels and work with your unique needs and budget. Call us at 978-486-3767 or request service online today.