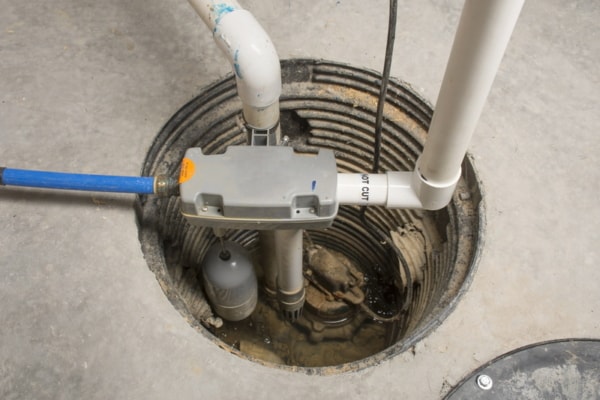 When spring arrives, the weather starts to turn warmer. But warmer weather isn't always good news. Nor are heavy spring rains. Both of them can mean water flooding into the basements of homes. Water damage is expensive to remediate, and this is why many houses have sump pumps installed to automatically remove excess water from a basement or crawlspace. If your home doesn't have a sump pump already installed, call us today and we can arrange to have one put in.
If you already have a sump pump, we hope you tested it early in the summer. This is easy to do. First turn on the pump and let it run briefly to make sure the motor works. (Don't let it run too long without water in the sump, since this can cause the pump to overheat.) Then pour water down into the sump and make sure that the pump activates automatically and removes the water from the sump.
What if the Sump Pump Doesn't Work?
If the sump pump won't turn on at all, make sure it's plugged in and check to see if a circuit breaker has been tripped. Sometimes the problem is as simple as this! If the sump pump won't activate when water is poured in or it won't drain out the water, check to see that there is nothing blocking the intakes, such as small stones. (We recommend you clean out the sump before the season starts, since small debris can clog up the intakes and pipes.)
If the sump pump still isn't working, now is the time to call for professionals to repair it.
Can I Do Any Repairs on My Own?
Aside from using a cotton swab to clean out the weep hole or cleaning out the sump, it's best to let a professional plumber take care of any repairs for a sump pump. Any major plumbing appliance should be left to a trained and licensed plumber.
Is It Possible I Need a New Sump Pump?
This is definitely a possibility, especially if you've had the sump pump for many years or it came with the house when you bought it. A sump pump is a mechanical device that will wear down over time, and submersible sump pumps can suffer from exposure to water. When you call on a professional plumber to fix a sump pump, the plumber can give you an expert diagnosis of the system and tell you whether it's better to continue to repair it or if it's time to put in a new one.
Whatever your Westford, MA plumbing needs are, you can trust to our experts to handle them. We have more than 30 years of history as plumbers serving the area. We'll arrive on time and have your sump pump repair (or replacement, if necessary) completed in a timely manner. We'll leave the work area clean once were done, and we'll see that we do the right job the first time.
Basnett Plumbing, Heating & AC has offered reliable plumbing in the MetroWest Area since 1987.