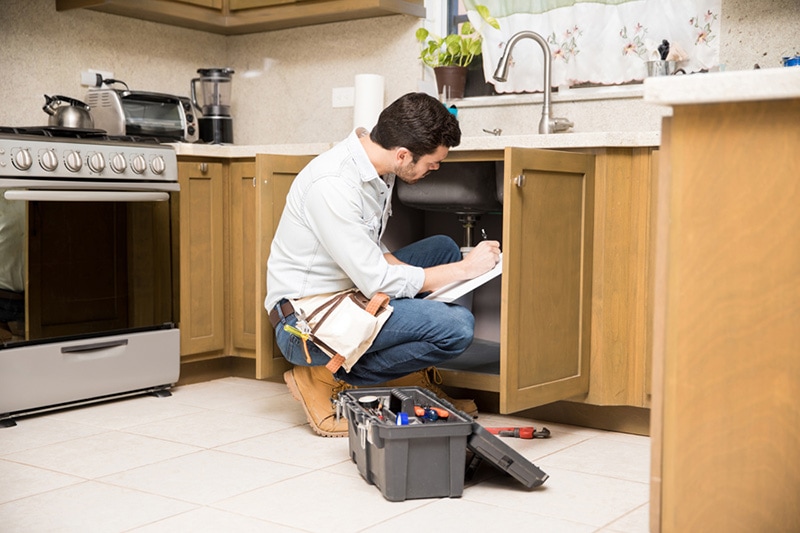 You leave for the beach and come home to a lake—in your basement.
Few things will cause more damage to your Massachusetts home than a burst pipe. Imagine taking a nice weekend getaway, and coming home to hundreds of gallons of water (even thousands!) rushing down your hallways, into living rooms, bedrooms—every wall and every plug. That is one wet mess we would all like to avoid.
For over 33 years, Basnett Plumbing, Heating & AC has been serving MetroWest homeowners by offering top-notch service and practical solutions to all your plumbing and heating, ventilation, and air conditioning (HVAC) needs. You can count on us to keep you and your loved ones comfortable and safe throughout the year.
Now, let's talk about water!
Water Damage and Your Littleton Home
Your water system should indeed be drip-dry fine when you return home from an overnight stay. But why risk it? Why risk the possibility of the enormous damage to your home and all your personal belongings. Turning off the water supply before you hit the road gives you peace of mind.
You could leave your home for just one day and return home to a complete disaster if a pipe should burst while you are away. Along with the insurance claims that are sure to be a battle, you will need to physically dry out items that can be salvaged—and toss away the rest!
Even a small leak can add up quickly—according to the US Environmental Protection Agency (EPA), at least 10 percent of the homes around the country have leaks that waste 90 gallons or more per day.
Where Is My Main Shut-Off Valve?
Step one is to locate your shut-off valve. The valve should have a wheel control or lever handle to open and close it. It is perfectly safe to turn it off by either turning the wheel clockwise or closing the lever handle. You are most likely to locate the valve in the basement or crawl space of your Littleton home.
Try turning it off beforehand. That way, you can pack your bags and head out the door with one less worry. Trying to figure out where this valve is located, without knowing exactly how everything works, could lead to some unnecessary stress.
Frozen Pipes In Littleton
Plumbing mishaps occur year-round, but you will want to turn off the water if you leave your home overnight in the winter. Freezing temperatures can easily rupture your plumbing system, causing pipes to burst and flood water all over the place. And those small leaks that you might easily catch when you are home suddenly are magnified if you are away.
No matter the time of year, our master plumbers at Basnett can fix those leaks and have your plumbing system running at peak efficiency in no time! Our licensed and certified experts know how to do the job correctly.
What About My Water Heater?
When you go on vacation, it's also a good idea to turn off your water heater, along with the main water supply. Turning off the source of the heat—whether it is gas or electric—will not damage your water heater while you are away from your Littleton home.
Create a Plumbing and HVAC Checklist
Changing air filters, adjusting thermostats, clearing debris around the outdoor condenser, monitoring your pipes for leaks—there are a lot of 'little items' to address when it comes to your plumbing and HVAC!
Nobody wants to take off for a few days and return home to a complete disaster because of an indoor flood. At the same time, you also do not need to cool or heat your home if you are away for a few days—but it's an easy thing to do if you forgot to adjust your thermostat. A checklist always comes in handy.
Call Your Plumbing Experts at Basnett!
At Basnett Plumbing, Heating & AC, we offer sustainable solutions and practical advice that adds another layer of comfort and safety to homes and businesses throughout Littleton, MA. Call 978-486-3767 or request service online today!